From the newest image pack, Bathing Bulma! Doing something as simple as taking a bath can be a problem when you're late into your pregnancy, as Bulma is about to learn! To view the full image set uncensored, purchase the pack from e-junkie by clicking the link below!
269447.e-junkie.com/product/17…
Or obtain it from my Patreon at either a discount or no additional cost!
www.patreon.com/AxelRosered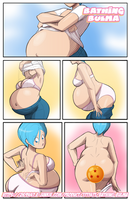 from DeviantArt: WitWGARA's gallery https://ift.tt/3vpW4fA